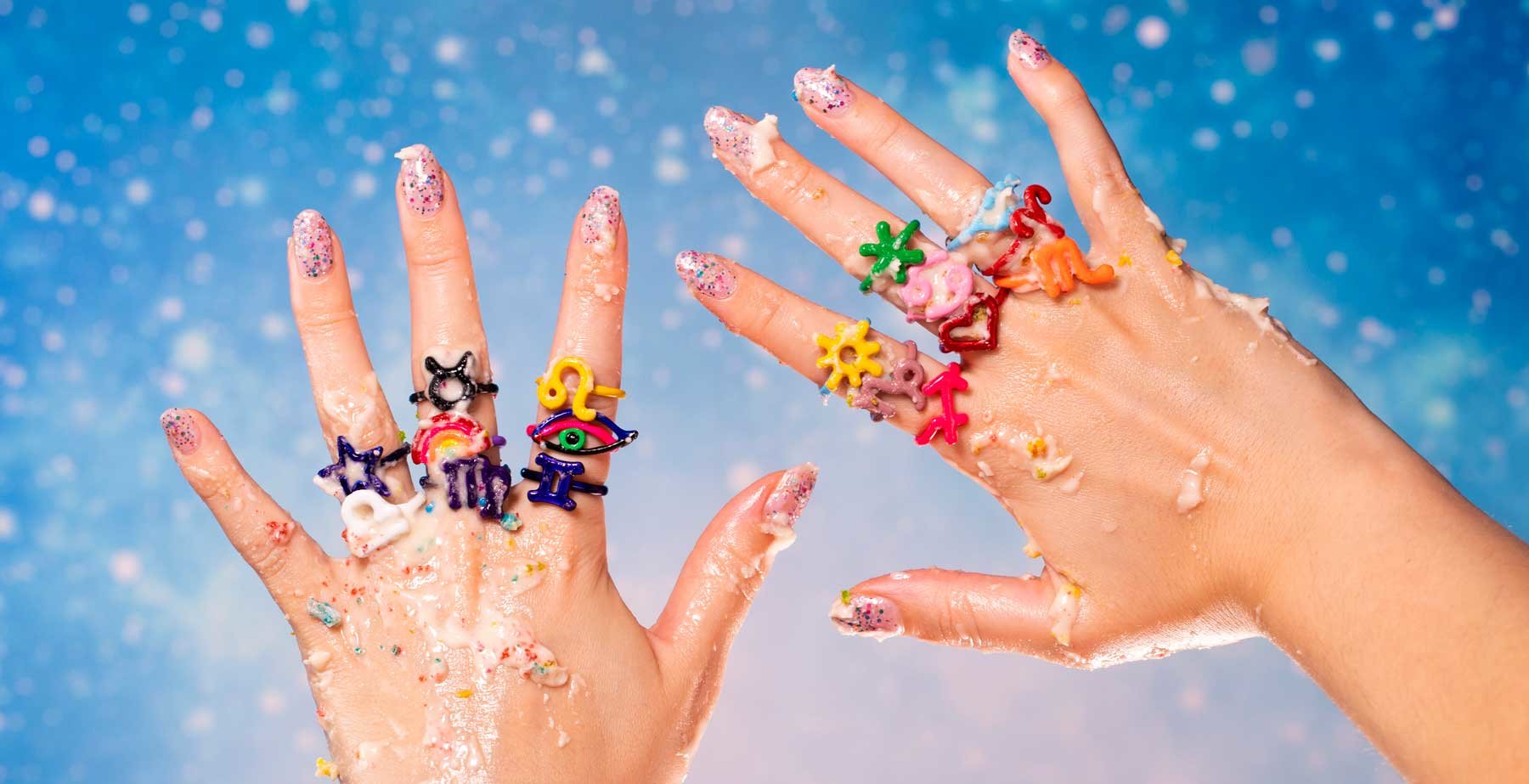 Find your star sign or talisman
with our guide to the zodiac signs
The Hotglyphs add a dose of colour and of playfulness to the astrological signs. Wear your Hotglyph as a reminder of who you are, or create a stack containing the signs of your loved ones. The perfect gift to treat yourself, your bestie, or anyone you hold dear.
Aquarians are adaptable and creative with an inventive sense of fun. With the innate ability to anticipate future trends they are life's idealists.
SHOP NOW
Focused on the spiritual and emotive side of life, Pisces are creative and artistic and they will express themselves in the way they dress or decorate their home.
SHOP NOW
Bold and ambitious, Aries are inventive and creative souls. They have the courage to try new things and the confidence to make things happen.
SHOP NOW
Straight-forward and responsible, Taurus make rewarding partners, friends, and parents. They are happiest when they are at home with good food and their family.
SHOP NOW
Gemini is a celebration of duality with the ability not only to do a thousand things at once but also accomplish them at twice the speed. A social butterfly, they can make friends with literally anyone.
SHOP NOW
Intuitive and nurturing, usually making the welfare of those they love their top priority, Cancers know what they want from life and are rarely discouraged by temporary setbacks.
SHOP NOW
The star sign of Hotlips - Leo's are extroverts in the truest sense - happiest when showing off their creativity and passion. With a persuasive smile and bags of charm, they can get just about anything they desire.
SHOP NOW
Virgos have a strong desire for perfection and dedicate themselves to getting things done without a fuss. Modest and reliable, people can always count on them.
SHOP NOW
September 23 - October 22
Like the scales that represent the sign, Libras have a balanced approach to life. Fairness and equality often make their opinions valued over a wide range of subjects.
SHOP NOW
Scorpios are the most passionate of the zodiac signs, they have tremendous inner strength and are known for their intense and honest gaze.
SHOP NOW
November 22 - December 21
Sagittarius are restless spirits and are driven by the desire to see and learn as much as they can. Natural clowns, their sunny disposition often masks a serious soul.
SHOP NOW
Capricorns will not rush, choosing instead to carefully tread along steep paths before finally reaching their goal. Wise beyond their years, they are down to earth, practical and truly capable.
SHOP NOW
Wear your heart on your hand. Our Heart Hotglyph ring represents the enduring symbol of love, compassion, joy and charity.
SHOP NOW
Somewhere over the rainbow. Our Rainbow ring symbolises colour therapy and is a celebration of the phenomenon that is a constant source of inspiration for Solange.
SHOP NOW
Our Sun Hotglyph ring brings a little brightness to every day of the year, evoking the cleansing energy of light.
SHOP NOW